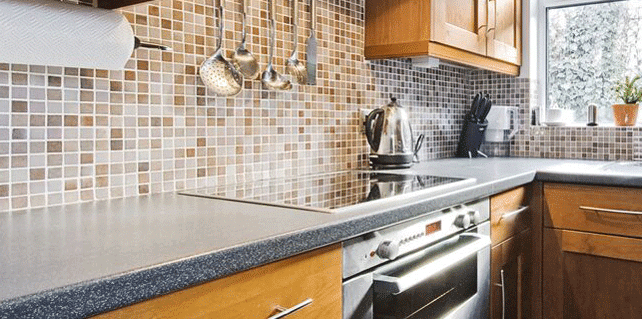 Infinite varieties of kitchen wall tiles are trending to create a clean, healthy, durable space in your homes. These styles, colours, and textures convert your imagination into reality. You can find timeless designs, rustic and charming ranges with great colour ranges and patterns. Plain subtle colours like the white, neutral tones, effects of natural stones, and bright colours are gaining popularity. The latest trend is to add texture or colour splashes with tiled feature walls, kitchen splashback tiles mosaic, borders and add decorative inset tiles. Match the floor with these wall tiles in matching colours. The pioneers in the tile industry are ready to give you suggestions and tips based on the latest styles.
The experts have given some tips on selection of tiles for the kitchen walls. They suggest that they must always be sourced from a good supplier. Just because the latest trend is the use of large format tiles, do not use them if they do not match your kitchen. Installation of such large and heavy ones is recommended to be done by professionals. Matching the worktop and coordinating all the colours including the floors and cabinets might not work well always. Work with contrasts like matte and gloss finishes on the worktops and walls. If your kitchen has a lot of switches and sockets, mosaics are the best options. Use them on the worktops and wall units, and use contrasting shades for the other places. Use the wide palette of colours and styles to create a designer space out of your own imagination. Create wonderful effects like oceans and seas with the use of trendy kitchen wall tiles.
Metallic decorative ones are the most popular ones this season. Stainless steel finishes, and bronze finish are two styles that can be used in offices and homes. They are opulent and create a contemporary interior. The adhesive or self-sticking varieties are simple to install. They have a built in grout pattern, which is unique and simplifies the decoration. Finishes similar to wood, steel are marble are some of the new varieties. Monochromatic ones are also being used extensively. The leather finish is the newest trend. They are durable and have a unique softness on the exterior. The interiors look warm and inviting.
Natural stone finishes in porcelain are a hit. Porcelain is also available in slate finish. Porcelain white and black are ultimate colours to depict luxury. The matte effect in porcelain in subtle colours can give a beautiful appearance. Ceramic tiles with surface tones of wood, beige and cream are classic options for kitchens. Large rectified ones have a modern impact with less grout lines and amazing effect of space.